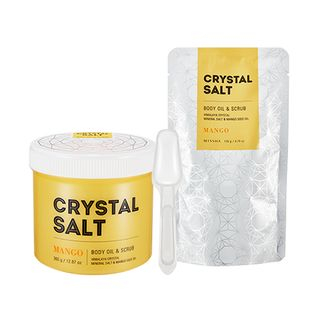 Crystal Salt Body Oil & Scrub (Mango)
Description
Brand from South Korea: MISSHA. Consists of natural Himalaya crystal salt to gently scrub and eliminate dead skin cells, and blended oil(. Rose, Almond and Castor Oil) to help soften and nourish your skin with a fresh floral scent How to use: 1. Open the cap of oil pouch and pour it to the container of scrub particles. 2. Mix salt scrub particles and oil thoroughly with equipped spatula. 3. Take an appropriate amount and massage in rolling motion on wet body after shower. 4. Rinse with lukewarm water and towel dry the left over oil.
Ingredients
More info (description, ingredients...)
Sending...
This product was successfully sent to your friend!
There was an error, please try later...