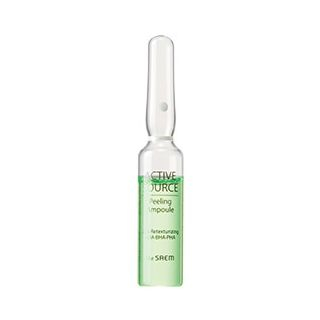 Active Source Peeling Ampoule 30pcspcs
Description
Brand from South Korea: The Saem. This product consists of: - Active Source Peeling Ampoule 2ml x 30pcs - Safe Cap 5pcs - Ampoule Stand 1pc - Opener 1pc Active Source Peeling Ampoule: - Enriched with peeling contents AHA + BHA + PHA which effectively manage rough skin texture by removing dead skin cells to restore smooth, supple skin express - 3 types of plant ingredient Moist Calming EX helps soothe troubled areas for clear, healthy skin - Naturally derived moisturizer Beta-. Glucan supplies rich moisture and helps retain optimal skin condition without dryness even after peeling - Micro-. Micelle Delivery System effectively strengthens rapid transfer of active source deep into the skin as well as the effect of the following skin care routine How to use: 1. Lightly tap the upper part of the ampoule container to gather all the content inside. 2. Stick in the ampoule to the ampoule stand. 3. Cover the ampoule with the opener and press down until reaching the ampoule stand. 4. Throw away the head part separated from the ampoule. 5. Put the safe cap onto the ampoule properly. 6. At the first stage of skin care routine, spread a moderate amount evenly over facial area and gently massage along the skin texture for absorption. 7. For the remaining ampoule, leave in on the stand and store it in cool place without direct sunlight exposure. Ampoule should be all used within 24 hours after opening.
Ingredients
More info (description, ingredients...)
Sending...
This product was successfully sent to your friend!
There was an error, please try later...