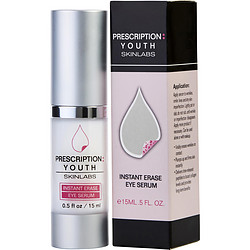 Prescription Youth Instant Erase Eye Serum--/. for WOMEN
Average Rating:

(from all mySkin members)

Scent (?

Scent

How light or heavy is the smell of the product? Some products contain fragrance. Others may give off a distinct odor.

)

NoneNoneLightMediumHeavyVery HeavyVery Heavy

Texture (?

Texture

The "weight" of the product when it is applied to your skin - is it light, heavy?

)

Very LightVery LightLightMediumHeavyVery HeavyVery Heavy

Absorption (?

Absorption

Absorption describes how well a substance penetrates your skin. Here we measure absorption in terms of its rate of penetration into your skin. How fast did it absorb? Some products don't absorb well, and instead "sit" on top of skin forming a film, which can range from light to heavy. If you still have a layer of product sitting on top of your skin, the rate would be considered Very Slow.

)

Very SlowVery SlowSlowAverageFastVery FastVery Fast

Speed of Results (?

Speed of Results

How long did it take for you to begin noticing results?

)

ImmediateImmediateLess than 1 WeekBetween 1-2 Weeks2-3 Weeks3+ Weeks3+ Weeks
Yellow Stars are average rating from all mySkin members, including those with similar and different skin conditions as yours.
To rate this product, add it to your profile.
Users who have this product (11)
Woman from United States
Unknown skin

How similar is carolyn's skin with yours? Take the Skin Assessment to find out how similar you are and find your SkinTwins.
Sending...
This product was successfully sent to your friend!
There was an error, please try later...