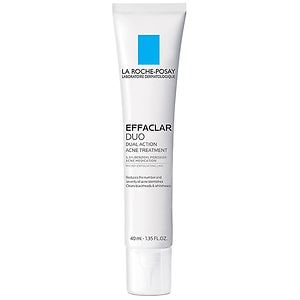 La Roche-Posay Dual Action Acne Treatment, .
Description
Reduces The Number And Severity Of Acne Blemishes And Penetrates Clogged Pores To Clear Blackheads And Whiteheads Non Comedogenic Fragrance Free Tolerance tested on acne prone skin under dermatological control. EFFACLAR DUO addresses acne prone skin with blackhead, whiteheads and blemishes.It is the first solution to combine LHA with micronized Benzoyl Peroxide Dual Action Innovation Formulated with: Micronized Benzoyl Peroxide, clinically proven to reduce the number and severity of acne blemishes and to penetrate clogged pores to clear blackheads and whiteheads. LHA to exfoliate and smooth skin texture. Properties: EFFACLAR DUO has been rigorously formulated  for efficacy: 5.5% Micronized Benzoyl Peroxide to penetrate pores to clear up acne blemishes. 0.4% Micro exfoliating LHA to remove pore obstructing dead skin cells to purify clogged pores and smooth the sk
Ingredients
More info (description, ingredients...)
Sending...
This product was successfully sent to your friend!
There was an error, please try later...